SAYONARA / May '22

---

So long grey seasons, bonjour red May. We are psyched to launch a vibrant programme to speed up the transition to Spring in very good company. We open with a flourish, thanks to Canzonieri, the new dreamlike electroacoustic project by Emiliano Maggi and Cosimo Damiano (from band Salò), and a DJ set by multidisciplinary artist Alicia Carrera that'll be as much as hypnotic. Next up, it is time to welcome a giant: Tolouse Low Trax and his Afro-Baroque elegance through obscure arpeggios and slow releases. Thanks to the support of Mr. Monday (Sameheads), we are likely to lose ourselves and never go back. To continue along, we offer you a multi-location triplet of special events to fly high and delve deep. We begin with Obstacle Illusion, the audiovisual live set by Thollem and ACVilla, for the first episode of Superspettro in the frame of MO.CA. The day after, we are back into our corridors for a night with Don The Tiger and his primitive rock and roll made of resampled rumba, baroque fantasy, guabina, and flamenco. To follow, we delve deeper into the phenomenon of Lento violento/Slow style with a new episode of Subcultura that will bring together Nahshi, Paynomindtous, and ten international DJs to offer you sets, screenings, and talks. We conclude this sparkling programme with another triplet, giving the stage to the no-wave synth-punk of trio TV DUST, the danceable darkwave sounds of Tilly, and the deep listening worldwide mixes by inis:eto. Too late to turn back!

---
Canzonieri (live) + Alicia Carrera (DJ)

An obscure medieval project by Cosimo Damiano and Emiliano Maggi (Salò), involving flutes, guitars, modular synthesis and voice. In a veil of mistery.
Alicia Carrera has been quietly working away in the underground for a number of years. She is Barcelona based after a spell in Berlin, and is a multi-disciplinary talent who works as a graphic artist, photographer and editorial designer all while managing the cult Hivern Discs label and (in other times) spinning weird and wonderful DJ sets all round Europe. She has a penchant for sounds that come from opposite ends of the spectrum - colourful and psychedelic, dark and experimental, slow and cosmic or more hard and techno - and hearing her join these up is always a thing to behold, as are her radio shows for the likes of NTS Radio amongst others.
dekmantel.com/editorial/dekmantel-podcast-306-alicia-carrera
---
June 6 195
Tolouse Low Trax + Mr. Monday (DJ)

"The primitiveness in my music is linked to something simple, and that doesn't have to be obligatory minimal. For me it is enough to dance rough around the core. Music you don't shape till the end contains of a moment of beauty. A veil of secrecy. I work very simply. I rather reduce my possibili- ties in compass. Limitations offer lots of liberties." Tolouse Low Trax aka Detlef Weinrich's ethic branches off in his multiple releases on labels as Idle Press, Infiné, Karaoke Kalk, Kunstkopf, Neubau, Themes For Great Cities, Antitote or Cómeme.The German producer isn't a newcomer of the scene for sure: still an active member of Kreidler, he is the man behind Dusseldorf's infamous Salon des Amateurs.

His productions as Tolouse Low Trax explore Afro-Baroque elegance through obscure arpeggios, slow release hypnosis turns genres' into blurry scenarios in which you easily lose yourself and when you want to go back, it's too late.

"Well recommended for the freaks"


Eclectic selections that crosses paths between balearic dub, world & comic tunes and many other oddities from the past, present and future.
soundcloud.com/monday-berlin
---
Obstacle Illusion by Thollem feat. ACVilla (SUPERSPETTRO)

Thollem McDonas is an American pianist, improviser, composer, singer-songwriter, touring performer, musical educator, and social critic. His new solo acoustic/electric album Obstacle Illusion on Astral Spirits Records is born out of his love for a myriad array of music that he's lived and studied over the years. The music is genre-bending, code-switching, omni-idiomatic, internationalist, intersectional and intentional. It represents the culmination of Thollem's life's experiences as a musician and a human being in dialogue with the universe. The album includes live concert recordings from his 3-month European tour at the end of 2021: Centro d'Arte in Padova, AngelicA in Bologna and the Rassegna di Nuova Musica in Macerata.


---
June 6 195
Don the Tiger + Spettro Residents (DJ)
Don the Tiger (Adrián de Alfonso), an ubiquitous presence in Barcelona's underground, has relocated to Berlin, where he now takes inspiration from everything he misses - be it rumba, MPB, baroque fantasy, guabina, flamenco or Fania Records- and mixes it with musique concrète and elaborate sampling techniques, delivering it all in a way that owes more to primitive rock'n'roll than to anything else.
www.youtube.com/watch?v=oNpTLaJQGEo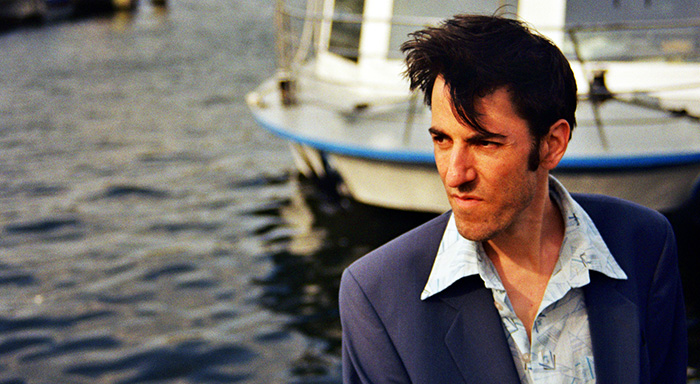 ---
SUBCULTURA #2: Lento Violento (Paynomindtous + NAHSHI)
Lento Violento/Slow Style

A day of exploration of the subgenres of Lento Violento, the style created by Gigi D'Agostino that became an international phenomeon. We begin with the screening of a documentary about the Inuit people of Alaska, where Lento Violento is now "traditional". Next up, a online talk with 10 international DJs to explore their vision and approach to these style, and a lecture by Paynomindtous with guest Nahshi, the greatest exponent of Lento Violento. To follow, a slow style DJ set by Nahshi and Paynomindtous.



Each episode of
Subcultura
explores one music style/genre/scene, its history and behind-the-scenes. The first episode was dedicated to Footwork.
---
June 6 195
TV DUST + Tilly (DJ) + inis:eto (DJ)
TV Dust's songs flicker in and out of focus, as if they were a continuous broadcast, an ever flowing river of very weird music picked up by a makeshift antenna taped to the iconic San Giorgio church tower in Pordenone. 'Beep' was inspired by the isolation experienced during lockdown, when the Naonian/Milanese trio was forced to look inwards and find that source of sound, that electric pulse that keeps them alive in the truer sense of the word.
The skeletal kraut-punk of TV Dust's 'Beep' will leave you puzzled with a playful and artsy approach that can be traced back to The Great Complotto and early Italian new wave. Hypnotic on one hand, jittery and angular on the other, with a toy keyboard and random radio signals mocking the rock-solid grooves built by drums and bass, it feels familiar and at the same time completely new, like hearing your own heartbeat when you least expect it.
sentierofuturoautoproduzioni.bandcamp.com/album/beep
www.youtube.com/watch?v=ZyfFPw2nqi0
---