ROAR / Jan-Feb '20

---
The roaring twenties are here. A new decade, with a new edge, a new sound, a new attitude. We roar like flappers and jazzmen back then in Harlem, yet our roaring has nothing to do with the twenties. No Hollywood, no mass culture, no fake prohibition and fake liberation. We roar and the sound we make is inclusive, is independent, is weird. Ten nights of concerts, DJ's and live sets, encounters, experimentations, occasions to start a new decade in the sign of the lionesque. In January, Oscar Der Winzige and CV-Vision (DJ, live), Plasman 51 and Les Giants (live, DJ), El Tigre Sound (DJ). In February, Cacao and Clashmama (live, DJ), Lauri Soini (DJ), Giovanni Di Domenico (live), Pablito El Drito and Peak Nick (live, DJ), Yader (live), Gun Kawamura (live), Bára Gísladóttir (live). Plus Spettro Residents, OFF gigs and interdisciplinary stuff to be announced along the way, in the finest spectral tradition. An invitation to live these times of uproar with a downright roaring attitude.

---
Oscar der Winzige is founder of Sucked Orange, a private space in berlin, and responsible together with Matas Labašauskas of the duo "Octatanz" and Braille Satellite festival. Son of a collector of avant-gardedementia artifacts, forgotten universes and hidden histories, "Der Winzige" continues his fathers work in the most private way possible; through re-realising this music with a select audience, keen to discovery new musical territory, hungry to push new boundaries and explore their own limits of fantasy. The experience is not solely musical. This is just one key in gaining a deeper understanding of a world, enriched by friendship, the collective experience and self-discovery. Within cement caves in the early hours of the Berlin morning, the audience is invited to immerse themselves, to dive, as if under the influence of a slow-acting psychotropic poison, into abstraction, guided by sound into unknown atmospheres. It's also something special for you, the listener. It is a collection of opportunities to practice "dangerous" emotions in a "dangerous" situation, without having to confront to reality. A document, a testimony of the subcultural music of all nations. In other words, it offers you the chance to learn from the experience of others, and in this way, it fulfills one of the most important function of "music".
CONTROLLED VOLTAGE VISION is a machine in the mind of a human. It triggers feelings, samples memories and multiplies reactions. Live stepping sequencers and early electronic devices. To capture this music, it has been recorded trough screaming preamps on dirty tape.
soundcloud.com/cv-vision
---
June 6 195
Plasman 51 + Les Giants
Plasman 51 approaches music through classical studies of clarinet, he experiments with electronic composition beginning from 1997, through the use of trackers. Active member of 51beats from 2007, he published on the label three solo albums between 2008 and 2012. Being part of the project Cani Giganti, he published with them two albums (Concerto 001 in 2010 and Brain Confusion in 2012) and an EP (Darkstar in 2014). He participated in improvisation and sonic experimentation project Fanciulli GooM in 2015. In 2016, he published on Stato Elettrico label his fourth album "Endless Wave".
Les Giants explore sounds throughout the world and within the mind. They select records of traditional, experimental and ambient sounds.
www.lesgiants.com
---
June 6 195
El Tigre Sound (aka Fabian Riccio)
He stands up for his skills as well as for selection. He is as much a crowd pleaser as a nerd. It diggers disco just like EBM. He is convincing just as much in a big club as in a dark basement hole. He likes the house and techno pioneers of the eighties and nineties as much as contemporary musicians from London to Berlin. We're talking about Fabian Riccio, better known as El Tigre Sound. Growing up in a suburb of Lucerne, his music career began as a drummer and percussionist in various bands and classic orchestras. But Riccio soon discovers his soft spot for club culture. Without further ado, he decides to become a DJ. The first attempts at walking in the youth hostel follow. The first gigs in Lucerne follow. A stay in New York follows. Years of collecting records follow. Various collaborations follow. Own formats follow. Riccio is now one of the most popular plate layers in Central Switzerland. He also plays from time to time on national and international stages. He has received many encouragements: almost everyone likes him, the tiger. Except maybe the contradiction. Because he has no place in his world, he likes to put Ryuichi Sakamoto on Ron Trent on front 242 on Jean-Luc Ponty on The Sabers Of Paradise on Burial on Drexciya on Throbbing Gristle. One could accuse El Tigre Sound of eclecticism. But that would be wrong. Fundamentally because the apparently arbitrary musical interests of Riccio can be broken down into one common denominator: passion (Remo Bitzi)
eltigresound.blogspot.com
---
June 6 195
Cacao + Clashmama

Mindscapes / onanistic plasure.the meaning of pain / minimal tech / kraut / bass & guitar analogic dreams.



Irene Di Meo,
AKA Clashmama, is convinced that the best DJ set has always yet to be played: this is what drives the constant search for sets that entertain and surprise, a process that has led her to make the move from dance floor to console. A fast pace, decontextualisation and strong electroclash influences characterise her style of music: depending on the event and feedback from the audience, with whom she loves to enter into a musical dialogue, Clashmama is perfectly at ease switching from electro to italodisco to 80s to fidget to techno, or from chic to trash – unpredictability is the word.
soundcloud.com/clashmama-idoit
Clashmama is also part of TOO FAT DJS together with Hugo Sanchez
www.soundcloud.com/toofatdjs
---

Helsinki is a music scene which has grown in prominence and might over the years, Lauri Soini is a hugely active figure in the local community operating as a member of the team behind Flow festival and as a booker at reputable club Kaiku. He has also been a driving force behind the more eclectic party scene in the city for a long time and tells a tall tale of loft parties in towerblocks belonging to the Northern city. From a musical perspective he is well versed, having dabbled in absolutely all sorts over a lifetime spent in dance and creative spaces. In the present he finds himself more attached to funk, soul, disco, boogie and Italo - the type of music which sounds great on a well built soundsystem and best accompanied by friends in the midst of the after hours.



---
June 6 195
Giovanni Di Domenico


Giovanni Di Domenico, pianist, performer, composer, was born in Rome on the 20th July 1977, a significantly tempestuous period in socio-political terms, featuring hostile polarizations and an ostensive paramilitarism, mutinous ideological confrontations and bloody terrorist attacks, rendered infamous in the description 'Years of Lead'. In that particularly caustic summer, the so-called 'Movement of 1977', non-aligned, without any ties to the Parliament and non-violent, broke into the scene of prevalent conspiracy-steeped paranoia condemning the repressive, discriminatory and authoritarian tendencies of the Italian State and demanding equality for minorities and further civil rights. The coinciding liberalization of the media market, putting an end to RAI's monopoly, further defined this period as the prime moment for pirate radio, with the consequence of a libertarian fragmentation of youth culture, epitomised by punk.



---
June 6 195
Pablito El Drito + Peak Nick
Pablito is considered the Milanese maestro of 8-bit. After having organized concerts, set up stages and worked as a sound technician in the underground scene in Milan in the early nineties, he started being interested in electronic music as a dj first (since 1996) and then as a live setter (since 2003). He worked in art galleries and festivals in Italy Germany and France (MiArt, Tacheles, Museo di Fotografia Contemporanea, 6b, le Cyclop, Fondazione Pistoletto, Milano Film Festival, Torino Synth Meeting, Teatro Out Off, MamBo, XNL, Attenzione Frequenze Anomale, By this river). He published 6 cds (Bit Bubbles, Backroom Industry, Smogville, Little Computer Disco, Nerdcore, Kleptocracy), one vinyl (Zombie Moroder) and several tracks on different compilations. He wrote two books about the rave scene: "Once were ravers. Cronache da un vortice esistenziale" (Agenzia X, 2017) and "Rave in Italy. Gli anni novanta raccontati dai protagonisti" (Agenzia X, 2018).
www.agenziax.it/pablito-el-drito
Meet Peak Nick (aka Nicola Bonandrini), a pure dj, eclectic and never commercial, mean but pop; records, turntables and mixers: over 30, faithfull vinyl lover. nick has played a big part in the northern italian music scene for the past 15 years. we met him for a chat and were impressed with his peculiarity. going against all odds with the current musical scene he can mix everything and always gets the best results. peak nick is a technics master with no need for sampler or synth .
www.mixcloud.com/peaknick
---
June 6 195
YADER + Spettro Residents
---

Kawamura Gun was born in Japan and studied art in England. His art could not exist without humour, cynicism and a splash of sensuality. He works with various methods of painting, object art ,video and music. Recently he has been working on the theme 'Shy nudists': the nudists are masked because once stripped of their own identity they feel no shame in doing anything. Like the people who drive cars and get road rage. Series-Q is the first installation in the world to use the anus. The first Q-PET model has already become a cult figure. The artist has started working with video art very late in his career because he is not very good with technology, but it has always interested him. In this field too, he does not forget to inject a little of his humour.



---
June 6 195
Bára Gísladóttir
Bára is an Icelandic musician and composer. Her works have been performed by both chamber groups and symphony orchestras, including the Danish National Symphony Orchestra. She has played the double bass with the Iceland Symphony Orchestra and has sung in the Hamrahlíð Choir. She has received the Carl Nielsen and Anne Marie Carl-Nielsen Foundation's Talent Awards,
Léonie Sonning Talent Prize, The Reykjavík Grapevine's Music Awards, and been nominated to The Icelandic Music Awards Bára has released three albums; Different Rooftops, in 2015, containing pieces for voice, tenor saxophone, double bass and electronics, B R I M S L Ó Ð, in 2016, a piece in three movements for double bass and electronics, and Mass for some in 2017, for double bass, voice and electronics. Bára is an active performer and regularly plays her own music. In addition to this, she is the double bassist of Elja Ensemble, Skark Ensemble, and Balkan-band Orphic Oxtra. She has also performed with Ensemble Adapter, the Iceland Symphony Orchestra and S.L.Á.T.U.R.
www.baragisladottir.com
---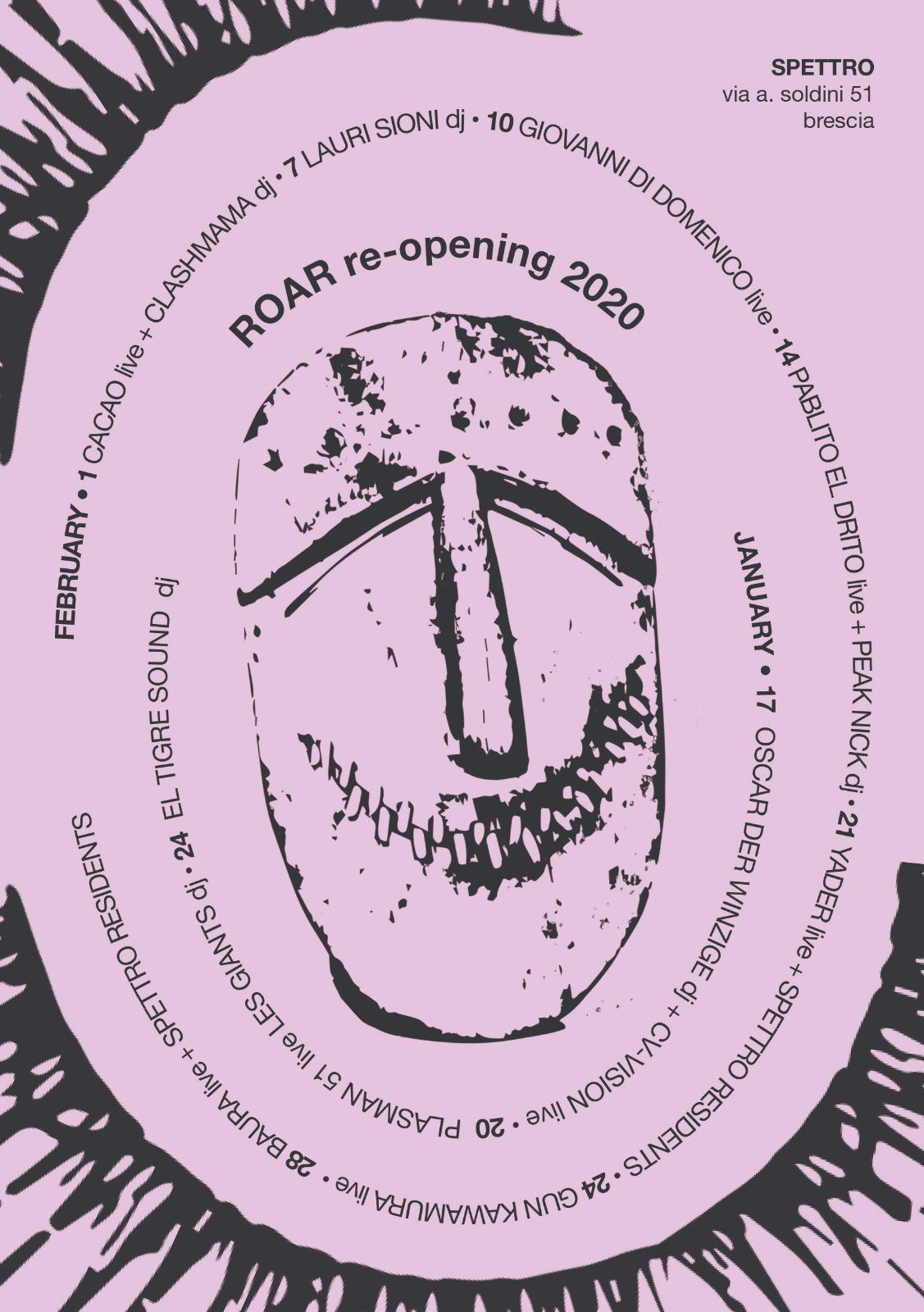 poster design: Valentina Lucchetti